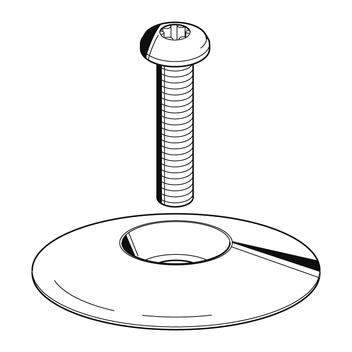 Application
Kit for professional connection of GRP/FRP or open mesh flooring onto a base frame made from siFramo F80 or F100 section. Suitable for grating up to 50 mm Bearing Bar depth and bar spacing between minimum 10 mm and maximum 40 mm.
Scope of delivery
1 Kit comprising: 
4 x Floor Disk FBT
4 x Self-forming Flange Screw M10 x 60
Installation
Place at least 4 no off Floor Disks per panel, preferably near the corners. Mark the appropriate round holes on the siFramo section by using a colour marker. Remove the panel and pre-drill the marked holes slightly using an FLS screw (192512). Put the grating panel back onto the frame and fix the Floor Disks by using the Flange Screws.
Technical Data
Diameter:

55 mm

Circular Hole:

10.3 mm for M10

Crossbar space:

minimum 10 mm

Bearing Bar Depth:

up to 40 mm

Screw:

Hexalobular Screw ISO 10664 - 50
M10 x 60

Material:

Steel, HCP